160 square metres of Access guard fencing for the safety of a piston production line.
Work cycle starts with the melting of the alluminium alloy for the production of the rough parts which then shall be finished with elimination of eccess material and surface smoothing. In the following step pistons go through a quality control station which checks hundredth dimensional tolerance and then parts are allocated to specific containers for handling operations.
Operations are carried out by 4 Fanuc robots which cater for parts handling to and from working stations (2 100 kg load at the wrist for casting and unloading and 2 165 kg load at the wrist for cutting and measuring).
Access's Enineering Department first studied the technical specifications and requirements of the line working area, then asked the customer to supply its requests regarding the machinery functional specifications, the guards layout, colours and interblocking devices associated to the guard system.
Access followed the methodology outlined in the Machinery Directive 42/2006 by acquiring risk analysis and RES relative to fencing guards and verifying their compatibility with standards requiriments starting from C-type standards and moving on to B-type standards:
Type C Standard UNI EN ISO 10218: Safety Requirements for Industrial Robots
Type B Standard UNI EN ISO 12100: Safety of machinery, General principles for design
Type B Standard UNI EN ISO 14120: General requirements for the design and construction of guards
Type B Standard UNI EN ISO 13857: Safety distances to prevent hazard zones being reached by upper and lower limbs
Type B Standard UNI EN ISO 13849: Safety-related parts of machinery control systems
The project design is entirely customised as it can rely only on a limited number of standard parts due to risks deriving from handling speed and potential part expulsion from within the working area along with the need to keep some semi-free areas for loading/unloading operations.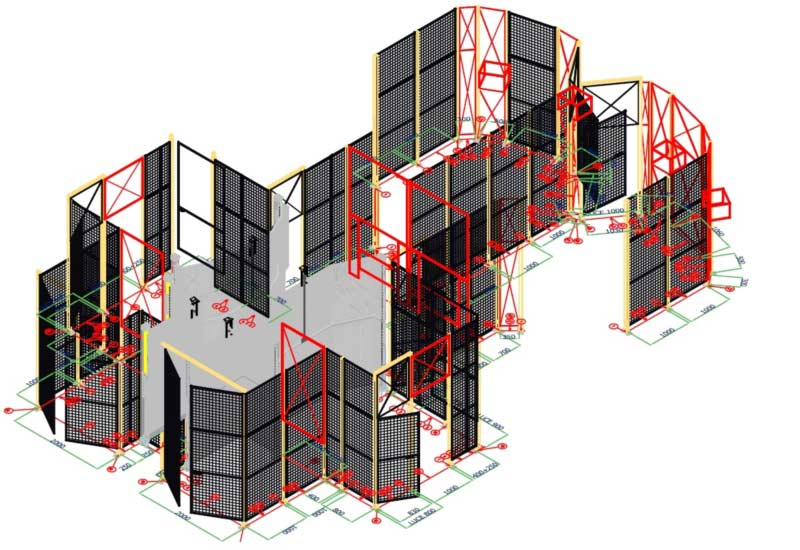 Final layout, realized with Access's own dedicated software, was presented for approval. The software allows to create 3D-modelling of the guard system which verifies fencing functionality and provides information regarding movable guards components, their speed and opening stroke as well as the actual appearance of the system once installed.
Safety height requirements were met by employing Quadra overlapping panel fencing system with Access's junction kit for Meta 1 captive fixing system: height 3 m,60x60mm section, DBS welded deformation resistant base as per UNI EN ISO 14120 Standard.
The solution studied for the loading/unloading semi-free areas was to implement 4 special pneumatic doors with vertical opening conformant to UNI EN ISO 13849 and Performance Level D with the following characteristics:
Door panel size 80 x 60 mm "L" and "C" shape
Central pneumatic cylinder
Safety counterweights
Ball bearing rail guards
Double polycarbonate panels with anti-phalanx mesh
Limit switches
Stroke control proximity switch
Safety Sensitive edges
Safety device for signal management
Doors are supplied with a declaration of incorporation, technical booklet with use and maintenance instructions in the language of system's country of destination, in this case Spanish.
Customer's comment upon completing installation:
"GFS Gravity srl has established a long-term collaboration with Access for the supply of fixed and movable guards to install on its own casting lines. Customized projects, fast action also for work in progress modifications, reliability and sturdiness of solutions has made Access our key partner in this field. In particular we would like to mention the solution designed for our new plant in Mexico. The vertical sliding doors fitted to the fencing system have provided us with a highly flexible line, which allows us to exclude one machine from the cycle whilst the other keeps running, in full conformance to the latest standards safety requirements"